About Timber Specialties
Timber Specialties Limited is the Canadian wood preservative division of Koppers Inc., a leading integrated global supplier of carbon compounds and commercial wood treating products and services.
Timber Specialties' sales of wood preservatives and plant equipment to wood preservation facilities in Canada are supported by engineering, technical and marketing staff based in Campbellville, Ontario, who are dedicated to serving Canadian customers. The Timber Specialties team continues to work with our valued customers and suppliers to provide the best products and services.
Wood products treated with preservatives from Timber Specialties are produced by independently owned and operate wood preservation companies.
About Koppers
Koppers is an integrated global producer of carbon compounds, chemicals, and treated wood products for the aluminum, railroad, specialty chemical, utility, rubber, steel, residential lumber, and agriculture industries.
Headquartered in Pittsburgh, Pennsylvania, Koppers serves its customers through a comprehensive global manufacturing and distribution network, with facilities located in North America, South America, Europe, Australia, New Zealand, and Asia.
Koppers Performance Chemicals (Koppers PC) has a dedicated staff of global wood science professionals, our premiere research capabilities position Koppers PC as the pioneer in wood preservation.
Koppers PC provides wood preservatives, engineering services, and award-winning marketing to our valued customers in over 70 countries. We develop revolutionary ways to pressure treat timber and round wood products for residential, agricultural, commercial, utility and industrial applications, offering advanced protection against termite damage, rot and fungal decay.
Wood preservatives, fire retardant and end cut sealer products from Timber Specialties/Koppers Performance Chemicals are available to meet the most demanding construction needs. Our brands include MicroPro Sienna®, NW100®, K-33® CCA and FlamePro® and Cut-N-Seal®.
Innovation
Koppers PC develops new preservatives, process automation, customized marketing support plus provide the highest level of customer service and technical support available.
Koppers PC is a global leader in the development and commercialization of many of the significant advances made in these areas and will continue to invest strongly and develop responsible products for the timber industry.
Vision
Market research and strategic planning, coupled with forming strong relationships with our customers have proven to be fundamental in our ability to develop timely products, processes and services.
Koppers PC focus is on developing preservation systems and other associated technologies that are designed to help our customers offer the best products and build the most efficient treatment facilities.
Responsible Care
Koppers is a member of the American Chemistry Council and is committed to adopting its Responsible Care initiative at all of our global locations by 2022. Responsible Care is the global chemical industry's voluntary initiative that focuses on processes, procedures and accountability for the safe, responsible and sustainable management of chemicals through their entire life cycle.
For more information about Responsible Care, visit the American Chemistry Council's website.
Zero Harm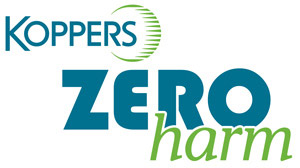 Koppers is also firmly committed to advancing a Zero Harm culture that places the care and protection of its people, environment and communities above all else. This focused approach empowers employees to ensure safe operations through a heightened awareness of process safety, product safety, environmental stewardship and security.